February 2020
Lego We Do is really taking off in school. Click on 'Read More' below to take a look at the slide show and photos from Ms. Murray's 2nd Class R7


January 2020
In an exciting development for ICT in St. Brigid's NS, Greystones, advised by Ms.Staunton the school has invested some of the 2019/2020 ICT Grant to invest in ten "WeDo 2.0 Lego Kits" for the school.
Designed for primary school classrooms, the children use the kits to enhance their skills in computing and science. All classes from 2nd up will have an opportunity to use the kits over the course of the year to design their very own robots and use basic programming to make their robots move.
Ms. Staunton's 2nd class have been the first class to use the kits. Communicating, collaborating and creativity are all part of the process as the students follow instructions, learn how to code and problem solve in an 'hands on' way.
With Ms.Staunton leading our learning, staff and students alike are all looking forward to learning more about WeDo 2.0 Lego and how it works.
We love learning about technology.
Hot on the heels of Ms. Staunton's 2nd Class was Ms. Murray's 2nd.
Lego We Do is really taking off in school. Click on 'Read More' below to ake a look at the slide show and photos from Ms. Murray's 2nd Class R7


ICT WEEK: A snapshot! After an intensive Good Digital Citizen session prior to lunch, 6th class room 15 had a super short timed PowerPoint presentation on any subject they wished with advice and support from the Transition Year students from St David's. Eight students from St. Brigid's presented their work. It was so much fun. Well done to all. A big thank you to Ms Caffrey for having us in.

January 2020
The staff of St. Brigid's NS would like to thank parents Ruairí O'Sullivan, Niall Harrison and Janet Watters, and past pupils Cillian and Sébastien Fulmer who generously gave of their time to come into school over the weekend and domain link and update our stock of laptops.
We are hugely in their debt and very appreciative for all they, and the rest of the Parents' Association Digital & ICT Committee do to keep our laptops up and running particularly in advance of this term's ICT Week with the TY students of St. David's Secondary School (see below).
You can read more about the work the PA's Digital & ICT Committee has done in the school HERE.
'Many hands make light work'. If you are a parent and if this is an area of expertise you have, and are willing to share we would love to hear from you. You could drop a message for Janet with your contact details into the school office.
December 2020
Last week was declared an ICT success by students in 3rd and 6th class and their teachers. They would like to thank the DIGITAL and ICT Committee of the Parents' Association and the group of wonderful TY students that came in from St. David's, Greystones to assist them in their learning.
Building on ICT weeks that the committee has previously organised, the work will continue to focus on 3rd to 6th with the goal to increase their digital skills in preparation for their transition to secondary school and associated IT demands.  A further goal is to assist the drive on positive use of technology and to create good digital citizens.
Third Class learned about Powerpoint and Sixth worked on Scratch.
With Scratch, you can program your own interactive activities, games, and animations. Scratch helps us learn to think, to problem solve, to be creative and to work together — essential skills for life in the 21st century. And it is fun!
The success of the week was in no small part due to the extensive preparation and planning by the Parents' Association ICT Committee and the help and guidance provided to the primary students by the TY students from St. David's.
Many thanks to the Digital and ICT Committee who came into school on Saturday 9th November 2019 to audit all the laptops that we have.
Even since then much quick thinking, trouble shooting and repair was involved as glitches presented themselves.
Eight reconditioned laptops are being donated to our stock. Many thanks to the committee for their trojan work.
In addition another kind benefactor has donated ten reconditioned desktops to the school, so our work in digital learning is really taking off the ground with the provision of the resources we need by generous parents and friends of the school.
We would like to thank the parents involved in delivering the content this week: Janet, Amanda, Aisling, Barbara and Sandra
and in addition those who help us behind the scenes: Ruairí, Milan and Niall.
'It takes a village to raise a child'.
November 2019
1.Many thanks to the Digital and ICT Committee who came into school on Saturday 9th November 2019 to audit all the laptops that we have.
In addition eight reconditioned laptops are being added to our stock. Many thanks to the committee for all their trojan work.
This audit is timely as members of the committee are running an IT week from Monday 25th November 2019.
The work will continue to focus on 3rd to 6th with the goal to increase their digital skills in preparation for their transition to Secondary school and associated IT demands.  Also the goal is to assist the drive on positive use of technology and to create good digital citizens.
2.Thanks too to the Wicklow Library Service who have given us a number of free licences for Touch Type Read Spell. We have put these to good use.
October 2019
As European Code Week comes to an end, just a reminder of the happy news we got back in June when GOOGLE EUROPE announced the names of the thirty three organisations that were getting grants for Codeweek and St. Brigid's NS, Greystones was one of the lucky ones.
St. Brigid's NS, Greystones were one of just six organisations from Ireland on the list to receive a Europe #CodeWeekGrant! goo.gle/EducatorGrantsECW. Many congratulations to all the other awardees.
These grants amount to €186,000, given to thirty three schools and nonprofit making organisations in Europe who will deliver computer science hands-on activities for 236,000 students.
The Irish organisations are @WeAreTUDublin @SchoolOfEd_UL @LYITComputing @MakerMeetIE one other school @stjosephsrush Post Primary.
It 'takes a village to raise a child' and it takes support to embed digital technologies in a primary school. We would like to thank our principal Máire Costello and Board of Management for their continuing support, our wonderful Parents' Association Digital & ICT Committee for their hard work and vision, Ciara Brennan of the PDST for her advice and guidance, the teachers and students for their enthusiasm and GOOGLE EUROPE of course.
Here's to learning how we can use #ComputerScience to impact students' education, together! #GrowwithGoogle.
Success in IT in school
1.A success we had not anticipated was the 'knock on effect' or the 'snowball effect' of Codeweek within the school, as teachers and younger students who were not included in the event, were got involved. The teachers of the younger students saw the buzz coding was creating and used our Beebots. So the younger students started coding during Code Week also. This initiative was a great success with students and teachers – and looks like becoming a regular event in the infant classes.
2.Coding will not be limited to Codeweek. Another initiative is planned for November.
3.In addition Senior students acted as peer tutors and taught their teachers too, using Scratch.
4.Initially the students who were being trained as 'leaders'  worked in pairs. This methodology worked well in terms of developing the students' communication skills.
Students learned with pair programming, sharing a device and working together.
'During pair programming, students work in tandem. The "driver" controls the mouse & keyboard while the "navigator" makes suggestions, points out errors, and asks questions…partners routinely switch roles to gain the benefits of each role'. from NCWIT's
'The Power of Collaborative Learning.'
April 2019
Planning ahead for Code Week EU October 2019
Following on from the success of the visits of the Transition Year students from St. David's Secondary School, mentored by members of our school's Parents Association, we are planning the following for Code Week EU in October 2019; that approximately 10-12 visiting students would coach 3rd & 4th class students attending Learning Support for Special Needs, in code using 'Hour of Code' activities from the Code.org website e.g.
The Learning Support students accompanied by Transition Year students and supervised by members of the Parents' Association will be timetabled
– to initially tutor younger 2nd classes in code,
– then their peers in 3rd and 4th class
– and finally older 5th and 6th classes in the school.
This will develop
– their self esteem,
– their 'standing' amongst their classmates,
– and their problem solving and coding skills.
March 2019
NEW to the website: Click on THIS link for THE DIGITAL LEARNING PLAN, for St. Brigid's Greystones 2019 – 2020 (including targets and the actions we will implement to meet the targets).
IT Week: 11th – 15th February 2019
Objective: To help all our students acquire the digital skills required for secondary school assignments and project work
This week both 3rd classes were for the first time included. Using the laptops, the following was explained:
– cloud computing
– directory management
– file location
– and naming & saving
Then we moved on to working with power point presentation slides. Parent Barbara Beatty went through a presentation slide by slide using country and frog facts. The children were supported in the classroom setting by the Transition Year students to copy what Barbara was showing. Then the students ran their own slideshow. They had so much fun.
With the 4ths and 5ths the focus was on
– using the internet as a useful research tool
– and how to manage together with preparing a fact sheet showing the full extent of work done (in Word) and a presentation, showing bullet points only (using Powerpoints)
Parent Amanda Fulmer gave us 'Hints and Tips' on research technique including 'the do's and don'ts'. She then explained the differences between using fact sheets and slide presentations. We also covered
– personal presentation skills required
– and how to get the information across.
A quote from parent Elaine Killilea on this sums this up well:
"Tell them what you are going to tell them.
Tell them.
Then tell them what you told them".
Time was then given, supported by the Transition Year students, to practice the useful hints given.
6th class had the opportunity to review Google Classroom & drive used by St David's Secondary school. Transition year students Ruby Mackay and Conor Campbell showed  us an individual student class room account. We saw assignments already submitted and some group project work.
Ruby advised if we can use Word and Powerpoint proficiently we would have the skill set to use Google Docs which is very similar. She showed us a 3000 word English assignment submitted. Ruby reminded us that good basic typing skills is really a must. Otherwise it will take many more hours to prepare digitally submitted projects. Click HERE to find a webmix of free online typing activities on the St. Brigid's website.
We revised some word skills with Mr Dodd's class and project preparation skills with Ms Murray's. The Transition Year students then supported classroom project work mingling among the student.
November 2018
Our digital year has gone from strength to strength. In the last week of November, Ten TY students from St. David's secondary school worked in St. Brigid's teaching 4th, 5th and 6th computer skills. The TY students have been very good teachers, establishing a great rapport with the primary students and having great patience. The younger students in turn are very engaged in learning about computers from young people that they look up to. This is another great initiative from the Parents' Association, more specifically the ICT committee. Thank you to parents Janet, Amanda and Aisling for co-ordinating this for us.
Good luck to our TY students who are out on work experience in St. Brigid's National School and a big thank you to St. Brigid's for looking after them! pic.twitter.com/qqeZOQx5Xx

— St. David's Greyston (@StDavids_Greyst) November 26, 2018
Some words from the Parents' Association on the inaugural SCHOOL'S ICT WEEK
'We are delighted to confirm that the Parents Association have this year continued their support of our students with their digital and ICT development for educational use. We launched an IT week on the 26th November for the senior section of our school 4th, 5th and 6th class. For the first time we were supported by ten Transition year St David's students. The children loved being mentored by their older peer group. They were deemed much cooler than parents! A big thank you to St David's  school for joining us on this new venture.  We hope to repeat this again next February.
What was covered?
With fourth and fifth class we focused on the huge capability of Word.  We showed where it might be more appropriate to use than Power Point and how both can be used in conjunction. The students work on Christmas menu's  and we saw some very creative work. We were subsequently told by a parent how her child used these newly acquired skills to design a Café Price list for St David's Christmas Café.
Sixth class were given a session on using the Internet safely as a research tool. They also got valuable instruction on how to present a digital project. All skills definitely required for their continued educational journey in secondary school. One class then put into action research techniques learnt for their current class project on WW2 whilst the other class in small groups put together a fact sheet on healthy lifestyle for 12 year olds. They researched, created a word document fact sheet and then presented their findings to their class mates. It was a very interesting experience.
Feedback
We have received extremely positive feedback from Ms Costello, the teachers involved and the students.
I want to thank Aisling Carroll, Amanda Fulmer, Ms Costello, the staff of St. Brigid's and staff and students St David's school for making this possible. Without their commitment and determination none of this would have been possible. I also want to thank the IT operational support group of parents that keep our school student laptops in working order.
Janet Waters, PA Digital & ICT Group'
You can read more about the work of the hard working and far sighted PA Digital and ICT Group HERE. New members are always welcome to this group. Just leave a message for Janet, at the school office.
September 2018
Our digital year started well.
The students and staff in St. Brigid's were very happy to receive the following email from Scoilnet today. Scoilnet is the official education portal of the Department of Education and Skills in Ireland. Today's email said: 'I'm delighted to congratulate your website on being chosen as Scoilnet's Star Site. We here at Scoilnet think that you have a great website and that it is a super point of contact between the school and the wider community. I've attached the Star Site logo for you to proudly display alongside your other many awards on your site.
We would like to thank everyone who contributes to our website: students, parents, teachers and secretarial staff. We would like to thank our Principal Mrs. Costello and our Board of Management who support all our work. Thank you too, for visiting our website and reading all about our school. We hope that it is like a window on all that makes St. Brigid's NS Greystones a special place to be.
This is what was said about our website on the Scoilnet Star Site page:
Congratulations to St Brigid's NS of Greystones, Co. Wicklow for winning the Scoilnet Start Site Award.
St Brigid's National School's website is very well designed and is packed full of useful information for parents, pupils and the wider community. The layout is easy to navigate and the most important information such as Latest News and Term calendar is very easy to locate. The homepage contains a photo slider which highlights activities and achievements within the school. There is also a tickertape containing information on events and news. The homepage is mainly divided into three distinct columns which contain info on events in the school as well as information on enrolment and booklists.
The site contains a navigation bar to the left of the page which makes the site extremely easy to navigate. Some of the navigation tabs give information on the school, school news and school policies. There is a dedicated section to the pupil's work and achievements such as science experiments, class plays and a visit to UCC to receive first prize in the All-Island School's History Competition! There are also links to pages detailing other achievements of the school such as Active Schools, Green School award and Digital School of Distinction.
All in all, St Brigid's National School's website has a very clean layout, is easy to navigate and make excellent use of space and colour. It is an excellent point of contact between the school, pupils, parents and the wider community. Well done on winning Scoilnet's Star Site Award!
Thank you very much to Scoilnet for featuring our website. Well done everyone
June Update:
We were awarded the Digital Schools of Distinction Award at the start of May. On 27th June 2018 we held our awards ceremony and we raised the flag. We were very lucky to have Minister Simon Harris join us for this special occasion. He raised the flag in front of the whole school. We really enjoyed showing him around St. Brigid's and we were honoured to have him raise our flag. Below is a slideshow of some photos.
Members of the Parents' Association Digital and ICT group completed desktop, word and PowerPoint sessions with 4th Class, Rooms 17 and 19. They were super students and really enjoyed it.
The group said; 'We were able to deliver this program to all 3rd and 4th classes this year. We are pleased with our achievement'.
The PA Digital and ICT group want to thank lecturers Aisling Carroll and Barbara Beatty and all the parent support team. Without all their hard work and commitment none of this would have been possible.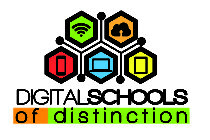 At the beginning of May we found out the exciting news that we were awarded the Digital Schools of Distinction Award. Neil, the validator, was very impressed with the work we are doing in the school to improve out IT. He visited a few classes and couldn't believe how much knowledge the children had regarding powerpoints, internet safety, Beebots, coding, etc. He was delighted to give us the award and looks forward to hearing what we have planned for the future.
Latest News
Summer Term
The Digital Schools' validator Neil O' Sullivan visited the school. He was helpful, encouraging and affirming. We await the news as to whether we have earned a Digital Schools' Flag. Here's hoping!
The Parents' Association's IT Committee are back!
On Tuesday, 17th April and Thursday, 19th they are going to work with Ms. Purcell's 3rd Class and coach them in Word and Powerpoint.
The following week they are going to work with Ms. Finnerty's 4th Class. They are also going to work with Ms. Smith's class.
Staff and students really appreciate this input from the IT Committee.
New Year 2018
The Parents' Association's IT Committee worked with 3rd Class Room 14 during the months of February and March 2018. There were four intensive, hour long sessions which ran over just two weeks. The children were introduced to Word and Powerpoint during this time.
The children really put a value on this learning. Being motivated digital natives, they learn a great deal in this time. Over the next few weeks this opportunity will be offered to other middle and senior classes, as time allows.
We would like to thank Aisling, Amanda, Barbara, the two Janets and Roz for giving up their time to help us learn.
IS YOUR CHILD SAFE ON THE INTERNET? Parents of 2nd to 6th Class students, your Parents Association and St Brigid's held an Internet Safety training session (recommended by the National Parent's Council Primary) on Tuesday 23rd January 7.30pm to 9.30 pm., St Brigid's School Hall. Following on from the interest generated by the Internet Safety training session held in the first half of the year, this second session was held for those who could not attend the previous session or for those who wish to learn some more.
'The overall objective of the session was to provide parents with enough information and skills so that they will be able to engage in their child's online life. Parents often admire how easily their children can use the Internet – but aren't quite sure of what they are doing or seeing. This programme looks at how children use the internet and gave a practical demonstration of the technologies and the websites young people are using. Parents were introduced to strategies to help their children be responsible, effective and safer Internet users. This session also looked at cyber bullying.
As parents, it is vital to have good, open communication with your child about their internet lives, as with all other aspects of their lives. We need to talk to our children about the potential dangers that they may come across online as well as the many benefits they will find. The programme also shows parents how to disable or enable safety mode on your computer. Setting rules and boundaries around children's Internet usage is an important aspect of keeping them safe on-line'.
Training & Development Programme, National Parents Council Primary
Digital Schools – Our Journey so far
We could have submitted for the Digital Award any time in the past three years or so, however we are 'hastening slowly'.
When we are assessed, we aspire to be in a situation where
the use of ICT in our school is 'authentic'
that every teacher is confident with IT
and that all students are be 'hands on' with technology.
1. Management has supported the teachers in this. A really important development that had to take place before we really could make progress was that the Broadband connection be improved. That happened in the Autumn Term of 2015 and has made a huge difference. Then when returned to school in September 2018, we found that we had Wifi. This was invaluable in terms of making progress using technology in the school.
2. We also needed to ensure that students had access to technology, so there was a substantial investment made in laptops. We decided it would be better to have a uniformity in the technology that we used and so built up a sizeable supply of laptops. They are relatively durable in comparison to other devices. One parents kindly gave of her time to unbox all these laptops for us and got them up and running.
3. With the investment in laptops came the need to store these laptops and presses were built accordingly.
4. We are working towards children getting 'laptop time' timetabled regularly. To date it has been practical that this would occur from second class. A significant break through occurred in the Summer Term of 2017. A group of parents ran a 'four class pilot program' with 6th class, with three sessions on word and one on Powerpoint.
In addition there was a 'two class pilot program' with a third class; one on Powerpoint and one on Word. This has been followed up in the school year 2007 – 18. The IT committee of the Parents' Association is working with 3rd and 4th classes, coaching them in basic computer skills, Word and Powerpoint.
6.The Board has also encouraged teachers to upskill by offering to pay for Summer Courses in IT. Teachers are growing in confidence and competency with IT year on year.
7. St.Brigid's has an online presence. There is a the school website, a Green Schools blog and a local history blog. Five teachers have had class blogs over the years. Three still do. Again pressure of time makes this challenging. However each class does have work displayed on the school website.
The local history blog was shortlisted for an Eir Junior Spiders Award this year. In 2014 the Green Schools Blog was shortlisted and in 2013 class blog 'If Only the Best Birds Sang' won the best school blog and overall prize for primary schools at the same awards.
Currently teachers use technology for;
1. Accessing 'Aladdin' to call the roll. Using the online noticeboard on 'Aladdin'; reading the information on there
2. the Smartboard & Interactive White Board (IWB) publisher content in Irish, English&Maths
3. Using bought software e.g. Jolly Phonics
4. IWB online educational games particularly in Maths
5. Listening to audio files in Religion, Irish etc.
6. Watching educational powerpoint and video content
7. Using the online behavioural chart from Classroom Dojo
8. Using the exercise site 'Go Noodle'
9. Teacher Planning: word processing
10. Engaging with the 'Wordsworth' programme for reading using 'the flipped classroom' approach. You can read more about the 'flipped classroom' HERE .
11. Subscribing to sites like the teaching resource site Twinkl and the Teaching Art website deepspacesparkle.com
12. Some teachers have class blogs and student blogs. Last March, Mrs. Caffrey's class participated in the global initiative 'Student Blogging Challenge' over ten weeks.
13. Watching RTE 2 Children's News Today if there is a 'big' story in the news e.g. 1916 commemorations
14. Creating slideshows of the children's art for the school website.
15. Some teachers have tried Mystery Skype with other classes in Ireland and abroad.
Some students in turn have been
1. Using educational software like 'Wordshark.'
2. Using the Symbaloo webmixes on the school website to work independently on Maths or English during the time they are timetabled.
3. Developing their skills in English; e.g learning phonics using 'Teach your monster to read', improving comprehension using Readtheory.org, vocabulary development using Freerice.com
4. Taken part in the Khan Academy 'Learn Storm' competition in Maths. Unfortunately that is not running this year. However students can use Khan Academy to learn maths.
5. Learned how code; to programme; to use 'Scratch'.
6. Done word processing; typing up their own writing online and blogging (Mrs.Caffrey's 5th and some students in LS)
7. Learned how to present projects as powerpoints (many classes from 4th up)
Our work now in school is to continue to continue to develop our own skills as teachers and giving children these opportunities to engage with technology at a younger age.
Some skills we would like the children to learn include
1. take photos on digital camera, upload them and make Animoto or Photopeach slideshows.
2. use Class 2.0 Tools; digital tools and widgets; Prezi.com, Storybird.com, Timetoast.com, Padlet, Tagxedo.com
3. make podcasts (sound recordings) using Audioboo or Audacity
4. make stop motion animations, and lego robotics (this would require an additional investment, or sponsorship)
5. engage with 'makey makey'; a form of engineering that turns everyday objects into touchpads and combines them with the internet. (However once again this would require an investment)
6. participate in three Irish based annual Twitter projects: Autumn, Spring and Digital Art.
7. Taking care online. Observing online safety, etiquette and copyright.
The Irish Times – Thursday 10th November 2016.  Innovation in the Classroom
What will learning be like in 2036?
'Pupils on a pilot project at St. Brigid's National School in Greystones, Co. Wicklow, are using the WordsWorth Learning Programme for the flipped classroom model.
Instead of the pupils listening in class and then doing the homework, they watch video tutorials outside class and do some interactive exercises to consolidate what they have been taught.  The next day, they go back to school and build on what they have learned; they also learn from each other.
'Using this peer group learning approach means that the students become more involved', says Orla Teehan, learning support teacher at St. Brigid's.  'When they come to me, they feel more confident because they have already done the work at home.'
The school also uses the programme to maintain & improve literacy standards, WordsWorth & similar programmes are likely to become commonplace, although a debate is needed on the role of for-profit service providers in the education system and whether we dance to their tune or get them to work for what we need.
Still, leading educators have advocated for this model including Pip Ferguson of DCU's teaching enhancement unit and the late Bianca Ní Ghrógáin, a leading innovator in education.  Trials with the children at St. Brigid's learning support unit have shown that the flipped classroom model leads to marked improvements in reading accuracy, reading comprehension and spelling skills.
Welcome to the classroom of the future.  This is one of numerous innovations changing how students learn'.
We have also used Khan Academy in 2015 and 16 from 3rd Class to 6th in a Flipped Classroom approach. Approximately 200 children took part in the Mathletes and Learnstorm competitions.
From June Newsletter to Parents 2015
Learning Maths on Khan Academy
What is Khan Academy?
Khan Academy is a free website for learning. In 2004 Sal Khan began coaching his twelve year old cousin Nadia long distance in Maths. After a while he found it easiest to send her YouTube videos to explain things. Out of this beginning grew Khan Academy. Its motto is '"a free, world-class education for anyone, anywhere". In the years since then, Khan Academy has become bigger and more effective. To start with Khan Academy just taught Maths.  Now you can learn about history, science, art, economics, music, computer programming and more. Many experts in their field work to put content online that students can learn from. It is free to use and is supported by donations. The Gates Foundation and Google are two of its main supporters.
How has Khan Academy been used in St. Brigid's?
Two hundred students in the school from 3rd class to 6th were signed up for the Khan Maths Challenge. Khan is particularly suitable for 4th – 6th class however there is plenty of early maths for 2nd class up too. Children like it because it makes learning fun; they are rewarded for doing Maths with points, badges and avatars. Persistence is rewarded as well as achievement.
Khan tracks progress for the student and recommends what they should do next. Teachers can check the dashboard and see the skills the students are acquiring and what students are finding hard. They can see who is working on Khan at home and the time they spend. Since January one hundred and seventy one students worked on Khan regularly. Seventy per cent of the work was done at home. The top three students competing in the Khan 6th week challenge spent nearly sixty hours working on Maths between them. Working thirty minutes a day on Khan really adds up. Even ten minutes a day would help.
The school piloted Khan from January, when a number of students participated in the national Mathletes Challenge. We came 1st in Wicklow, 7th in Leinster and 13th overall in Ireland. From 27th April we had a 6 week in-school challenge. This was even more successful. We hope to take part in the all Ireland Mathletes in January 2016.