School Year 2019-20
Physical Education, Physical Activities and Partnerships continues in the school year 2019-2020. Not even Covid could stop Ms. Murray and her team !
Active HOME Week
(April 27th – May 3rd)
National 'Active SCHOOL Week' takes place every April and is a really enjoyable part of the school year for many children.
This year, because of COVID-19, it is not possible for this to go ahead so we are asking you to invite the families of your school to participate in the 'Active HOME Week' challenge instead.
In addition  during the schools closure on account of Covid 19, Kevin Spain, Games Promotion Officer, Éire Óg GAA was quick off the mark in sending us A 7 day Fitness & Wellness challenge. After that he send us details of the GAA Covid response: a programme of exercise and learning weekly. It includes maths, history and geography helpful for primary home schooling. Click HERE to see.
School Year 2018-19
On Thursday 20th December we had a very special guest in the school to help us raise the Active Flag. Paul Dunne, professional golfer paid a visit to the school. We were very happy to welcome him to St. Brigid's and we were delighted he was able to help us raise our Active Flag. All the boys and girls gathered in the yard in their Christmas jumpers to watch Paul, Ms Costello, Tom Sherlock and the student council raise the flag. We entertained Paul with some Christmas songs as he chatted to a few of the children. Thanks very much to Paul for coming to visit us. You are welcome back anytime! Click the link to see some photos of this special occasion.
There was great rejoicing on Friday 22nd November, when our principal Mrs. Costello announced that St. Brigid's has earned an ACTIVE SCHOOL FLAG. Well done to all, but most specially to Ms. Teehan, Ms. Woodcock and the Student Council, have led the school in doing a huge amount of work towards earning this Active School Flag.
Schools wishing to achieve the Active School Flag work on provision across three areas: Physical Education, Physical Activity and Partnerships. Click HERE to read about the work we have done with Sports Partnerships in locally. Click HERE to read about Physical Activity in the school and HERE to read about Physical Education. A high point of the school year is Active Schools Week. You can read about that HERE Finally there is even more information on THIS LINK
October 2018
Just a month into the new term and the newly elected Student Council have already been very busy. The Student Council are also our Active School Committee. At the first meeting of this school year, the newly elected members of the Council, spoke about promoting activity in the school.
They plan to begin a 'running initiative' in every class, introduce and manage some equipment to the yard at break time and to organise the sports equipment for the school. 
Thank you so much for your support and encouragement of these awesomely enthusiastic representatives.
Ms. Woodcock, Student Council Co-ordinator.
It's super cool to be ag siúl. Be wise and exercise"
We learn about sports' people. We admire them. We would learn from them. We would like to be like them. Here is a story by Leon G. in 4th class.
Chapter 1 A Baby Boy
Once upon a time on the island of Maderia a baby boy was born.
He was the youngest of two sisters and a brother.
His father was a gardener and his mum was a cook.
They hadn't much money.
From a young age he played street football.
Chapter 2 Cry Baby
But people called him names. His nickname was 'cry baby'. His mum said, when he passed the ball to another and they didn't score a goal, he would cry and so he was called 'cry baby'.
Soon he had another nickname 'little bee'. His mother said that was because he was quick and fast. It was difficult for other boys to catch him.
His godfather said:
'He slept with his football. It never left his side.'
He was a young boy with a big dream.'
Chapter 3 Time to join a football club.
When he was 8 he joined the local football club.
When he was 10 he joined the biggest club
on the island where he lived.
Chapter 4 Leaving Home
When he was 12 he joined the biggest football club in
Portugal, Sporting Lisbon.
He had to move to the capital city, Lisbon.
The boy found it hard because he was only 12
and he missed his home and family.
The people in the football club said
he was too small to be successful.
Chapter 5 Good Advice from Mum
But this boy worked hard.
His mother advised him to concentrate on football.
This hard work paid off.
He played for his country of Portugal at the age of 18.
Chapter 6 Hard Work and Skills
Though he has a natural talent for football,
it is his hard work that makes him
one of the world's best football players.
His talent and hard work has earned him great respect.
He has millions of fans around the world.
Chapter 7 The Best Player in the World
This boy's name is
Cristiano Ronaldo.
He is considered the best player in the world
and one of the greatest of all time.
He says 'I am living a dream I never want to wake up from.'
Chapter 8 How to be Successful
Here are Ronaldo's 10 rules for success
1.Just play!
2.Be competitive
3.Always take on new challenges
4.Know what is important
5.People will judge you
6.Work hard
7.Believe you are the best
8.Play for the team
9.Enjoy the moments
10.Have a sense of humour.
Chapter 9 My Promise
My name is
Leon G.
Remember that name!
I am going to work hard at my football.
I will follow Ronaldo's advice.
I will work hard on my skills
and become a great footballer too.
School Year 2017-18
Have you met our mascot Fit Finn?
Fit Finn was designed by Clara Evans and Fiona Fickett (now past pupils), when they were in 6th class. Finn loves exercise and eating healthy food. He tries to do as much exercise as possible everyday.
October 2017
Well done to the children from 3rd to 6th class who were chosen to represent their classes on the Student Council. They had their first meeting with Ms. Woodcock and they are very enthusiastic. They will also be helping Ms. Teehan to promote the Active Flag activities that we do in our school. They are already helping us to come up with some new ideas.
3rd: Sam, Abi, Conor and Lily
4th: Lucy, Hugo, Ailbhe, Tim, Seán and Aibhe
5th: Caoimhe, Aibhe, Evan and Alanah
6th: Loman, Emily, Andrew and Peggy
ACTIVE SCHOOL FLAG
Guess Who by merrybeau
• We are working towards getting an Active Schools Flag.
This means focusing on PE and including as much physical activity into our day,
eg. GoNoodle, skipping, running laps of the yard, etc.
• 'It's super cool to bí ag siúl. Be wise and exercise.'
A Famous Footballer by Ryan 3rd Class
Chapter 1
The Story Begins
Once upon a time a famous footballer,
Lionel Messi was born in Argentina.
His family and friends called him Leo.
He was number 3 of 4 children.
His father and mother both worked in a factory.
He always loved football.
He played football all the time
with his big brothers and his cousins.
Chapter 2
Messi Gets A Football
Messi said 'I got given my first football when I was very young: 3, maybe, or 4.
It was a present and from then on it was the only present I ever wanted, Christmas, birthday or whatever: a ball.
At first, I used to collect them. I didn't want to take them out in the street in case they burst or got damaged.
After a while, though, I started taking them outside and actually playing football with them!'
Chapter 3
Playing Football in the Street
The house where Messi lived had no garden.
He played football in the street in front of his house.
Messi said 'I started playing when I was 5.
At first, I wasn't always allowed to play with the bigger boys but that changed as I got older.
It's funny: sometimes my older brothers didn't want me to join in those games in the street.
That wasn't just because I was small. They said it was because they were playing against older boys.
The thing was that the other boys wouldn't be able to get the ball off me:
my brothers were worried that I would end up getting kicked or that something bad might happen to me if the other boys got angry.'
Chapter 4
Messi joins a football club
Many of Messi's family played at the local football club
from Messi who was only 4
to his uncle who was playing for the senior term.
Messi's dad was one of the football coaches.
The club didn't have a team for boys as young as Messi.
He was only 4.
Chapter 5
Messi's Granny
One Sunday, when an older boy didn't turn up for his game,
Messi's grandmother asked the coach
to give him a chance to play.
His grandmother would bring him to training and matches.
To this day Messi often celebrates his goals
by looking up and pointing to the sky
to remember his grandmother.
Chapter 6
Football Crazy
Messi said 'I was playing every hour of every day that I could.
I'd go to school, come home
and, straight away, go out with a ball.
Then I might go training, come home, have something to eat
and then be back out in the street again.
I was always out in the street. And always playing football.
I even kept a ball with me when I was indoors!
His school teacher said, breaktime was football time
and everyone wanted Messi on their team.
His mother would want him to bring in the trophies
he won to school, but he didn't want to show off.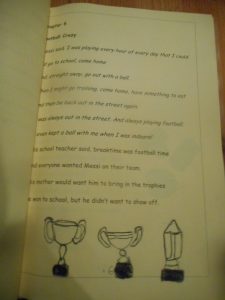 Chapter 7
Chocolate Biscuits
Messi was shy and a fussy eater
He loved chocolate biscuits
so his coach promised him a chocolate biscuit
for every goal he scored.
Then his coach promised him two biscuits
if he could score with his head.
His coach said:
"When you saw him you would think:
this kid can't play ball.
He's a dwarf… too small.
But immediately you'd realise that
he was born different,
and that he was special."
Chapter 8
Special Medicine
Messi's parents were worried
that he was not growing like other boys his age.
After a lot of tests when he was 10,
doctors said Messi was growing
but much more slowly than others.
The doctor said he needed a special medicine
so he'd begin to grow at the same rate as other boys.
'I was eleven, maybe twelve,
when I started the hormone treatment.
I had it for a year in Argentina, which my Dad paid for.
Then, when I came over to Europe,
Barcelona Football Club already knew all about it
and they took over the cost of it'.
Chapter 9
Moving to Spain
Messi was 13 when he moved to Barcelona in Spain
to play football.
By the time he was 14, his treatment was working
and he was growing properly.
Messi said that football
'…was a fantastic thing and what I wanted to do.
But it was strange, too. And difficult: there was nothing here that I was used to from my life back at home; no playing in the street, none of our little football matches…'
He was so quiet that at first the other boys believed
he was mute and could not talk.
He was homesick after his mother moved back to Argentina
with his brothers and little sister,
while he stayed in Barcelona with his father.
Chapter 10
Dreams Come Through
'When I was young, I think that being a footballer
was what I always wanted to do,
although it was a dream.
I never imagined it would come true and, of course,
I never imagined the way in which it would come true.
As a boy, I just played because I loved the game
but, in the back of my mind, there was a dream
of playing professionally.'
Lionel Messi's dreams came true.
I believe mine will too.
MARCH
Note from the Active School Committee
Some children from the Active School Committee will come to talk to your class about our new character 'Fit Finn'. Past pupils Clara and Fiona designed Fit Finn when they were in 6th class. He encourages us to be more active in school and at home!
Our school slogan is 'It's super cool to bí ag siúl. Be wise and exercise'. The committee will design some posters for the school. If any class could write poems, make posters, or anything else it would be great to put some up around the school. We can also take photos of them for the website.
Students are getting the opportunity to climb Mont Blanc! This is a great skipping challenge! Students have to count their skips and each skip counts as a metre. They keep track of their skips over a few days and it is the equivalent of climbing some of the highest mountains in Europe.
FEBRUARY
This is our Active Slogan. We have an Active Schools notice board in the school hall and a suggestion box (outside Tara's office).
• Our Active School Committee is our Students's Council.
They were very interested in campaigning for allowing running in the yard last year and are delighted the success of that campaign.

Do Your Talking As You're Walking
JANUARY
We are encouraging students to move at lunchtime when outside and not sit down for the whole break.
• Active Schools Week will be from Friday 9th June to Friday 16th June.
During Active School Week we will be giving some physical activities for homework
• We will put photos, information, etc. on the school website.
• We have Playground Leaders in the yard.
Each class will take part in their own running initiative over the next few months.
We can't wait for a bit of sunshine for when we are running our laps.
Ms. Donnelly's class have carried out a 'What Club Are You In?' survey
and we will display it on the notice board in the hall.
The idea for this is to promote local clubs and inform the students and parents
DECEMBER
Our Active School Committee met for the first time at the end of November. We came up with some great ideas and suggestions already.
The committee members will tell their classmates about the Active School Flag and they will encourage the boys and girls to come up with some new ideas and to put these in the suggestion box outside Tara's office.
Ms. Donnelly's 4th class are working on a survey of local clubs and sports that the children participate in. We are hoping this will give all children some ideas as to what happens in their locality and hopefully it will encourage more children to participate and to be more active.