School Year 2019-20
February 2020
ICT WEEK: A snapshot! After an intensive Good Digital Citizen session prior to lunch, 6th class room 15 had a super short timed PowerPoint presentation on any subject they wished with advice and support from the Transition Year students from St David's. Eight students from St. Brigid's presented their work. It was so much fun. Well done to all. A big thank you to Ms Caffrey for having us in.

January 2020
The staff of St. Brigid's NS would like to thank parents Ruairí O'Sullivan, Niall Harrison and Janet Watters, and past pupils Cillian and Sébastien Fulmer who generously gave of their time to come into school over the weekend and domain link and update our stock of laptops.
We are hugely in their debt and very appreciative for all they, and the rest of the Parents' Association Digital & ICT Committee do to keep our laptops up and running particularly in advance of this term's ICT Week with the TY students of St. David's Secondary School (see below).
You can read more about the work the PA's Digital & ICT Committee has done in the school HERE.
'Many hands make light work'. If you are a parent and if this is an area of expertise you have, and are willing to share we would love to hear from you. You could drop a message for Janet with your contact details into the school office.
December 2020
Last week was declared an ICT success by students in 3rd and 6th class and their teachers. They would like to thank the DIGITAL and ICT Committee of the Parents' Association and the group of wonderful TY students that came in from St. David's, Greystones to assist them in their learning.
Building on ICT weeks that the committee has previously organised, the work will continue to focus on 3rd to 6th with the goal to increase their digital skills in preparation for their transition to secondary school and associated IT demands.  A further goal is to assist the drive on positive use of technology and to create good digital citizens.
Third Class learned about Powerpoint and Sixth worked on Scratch.
With Scratch, you can program your own interactive activities, games, and animations. Scratch helps us learn to think, to problem solve, to be creative and to work together — essential skills for life in the 21st century. And it is fun!
The success of the week was in no small part due to the extensive preparation and planning by the Parents' Association ICT Committee and the help and guidance provided to the primary students by the TY students from St. David's.
Many thanks to the Digital and ICT Committee who came into school on Saturday 9th November 2019 to audit all the laptops that we have.
Even since then much quick thinking, trouble shooting and repair was involved as glitches presented themselves.
Eight reconditioned laptops are being donated to our stock. Many thanks to the committee for their trojan work.
In addition another kind benefactor has donated ten reconditioned desktops to the school, so our work in digital learning is really taking off the ground with the provision of the resources we need by generous parents and friends of the school.
We would like to thank the parents involved in delivering the content this week: Janet, Amanda, Aisling, Barbara and Sandra
and in addition those who help us behind the scenes: Ruairí, Milan and Niall.
'It takes a village to raise a child'.
School Year 2018-19
March 2019
NEW to the website: Click on THIS link for THE DIGITAL LEARNING PLAN, for St. Brigid's Greystones 2019 – 2020 (including targets and the actions we will implement to meet the targets). From reading this you will see the pivotal role that the Parents' Association's Digital and ICT Committee have played. Staff felt they had reached a plateau. We had reached an impasse. The involvement of the hardworking, committed and skilled members of this group has made all the difference to the progress being made in the area of Digital Learning in St. Brigid's.
IT Week February 11th to 15th
Objective: To help all our students acquire the digital skills required for secondary school assignments and project work
This week both 3rd classes were for the first time included. Using the laptops, the following was explained:
– cloud computing
– directory management
– file location
– and naming & saving
Then we moved on to working with power point presentation slides. Parent Barbara Beatty went through a presentation slide by slide using country and frog facts. The children were supported in the classroom setting by the Transition Year students to copy what Barbara was showing. Then the students ran their own slideshow. They had so much fun.
With the 4ths and 5ths the focus was on
– using the internet as a useful research tool
– and how to manage together with preparing a fact sheet showing the full extent of work done (in Word) and a presentation, showing bullet points only (using Powerpoints)
Parent Amanda Fulmer gave us 'Hints and Tips' on research technique including 'the do's and don'ts'. She then explained the differences between using fact sheets and slide presentations. We also covered
– personal presentation skills required
– and how to get the information across.
A quote from parent Elaine Killilea on this sums this up well:
"Tell them what you are going to tell them.
Tell them.
Then tell them what you told them".
Time was then given, supported by the Transition Year students, to practice the useful hints given.
6th class had the opportunity to review Google Classroom & drive used by St David's Secondary school. Transition year students Ruby Mackay and Conor Campbell showed  us an individual student class room account. We saw assignments already submitted and some group project work.
Ruby advised if we can use Word and Powerpoint proficiently we would have the skill set to use Google Docs which is very similar. She showed us a 3000 word English assignment submitted. Ruby reminded us that good basic typing skills is really a must. Otherwise it will take many more hours to prepare digitally submitted projects. Click HERE to find a webmix of free online typing activities on the St. Brigid's website.
We revised some word skills with Mr Dodd's class and project preparation skills with Ms Murray's. The Transition Year students then supported classroom project work mingling among the students.
We are happy to learn that the Transition Year students find the tutoring they do during this week beneficial also.
Update November 2018
The Parents Association ICT and Digital group have been working actively and collaboratively with the teachers in St. Brigid's for three years to facilitate the development of digital technology in all aspects of school life. Headed by Janet Waters, Amanda Fulmer and Aisling Carroll, this group have a vision for the future of technology in the school.
The group sees technology as an 'learning enabler' for the children. Members of the group are aware that the more teachers use technology, the more it is embedded in the curriculum and the more it will lead to an increase in an efficient, effective and added value learning experience.
This initiative involves a new flexible way of thinking and upskilling for teachers, parents and pupils. We are, in are school. working on this together and this approach has had great success.
This year the Parents' Association received a joint 1st place award at the National Parents Council conference in recognition of the input by the school body in the Digital area.
The school achieved a Digital School of Distinction Award and the school website received a Scoilnet Award.
Transition Year Students from St. David's, Greystones assisted parents from the Digital and ICT Group teach all classes from 4th to 6th computer skills.
Ms. Heneghan's 4th Class attended 'Dreamspace' in Microsoft
The Digital and ICT Group have assisted both staff and students in their broader technology development. They have accessed additional professional skills among the wider parent body.
As a result the school is greatly indebted to parents Ruairi O'Sullivan, Niall Harrison, Adil Touati and Milan Podhrazsky who came on board in the Summer of 2018 to offer us their expertise. They put a great deal of time and energy into sourcing, repairing and reconditioning computers. Now there is now a bank of computers available and teachers can schedule computer time for their full class. This work is ongoing.
Other than IT operational demands, the main focus of this support is with Microsoft Office. Ruairí O'Sullivan is teaching the teachers the potential of Microsoft Office for use in the school and classroom. While the TY students worked on teaching Word and Power Point to 4th, 5th and 6th class.
This year with 6th class the ICT and Digital Group are extending this learning to the development of research and presentation skills using technology. These skills are needed very immediately in secondary school given the Junior certificate is now more project focused. Teachers in secondary schools explain that there is not the time in school to teach these skills however there is an expectation that students already have these skills.
In the long term a project goal is to make this program self- sustaining, not reliant of a group of parents who are in the school for a time. Ideally this groups hopes that a bi-annual visit from the Transition Year students may be the solution.
Janet Waters, who co-ordinates the Parents Digital and ICT Group says 'One of my other project goals is to access a scheme to increase our students of how technology works in the real world. I would like to connect the dots outside of school environment to business and the economy and show the children what can actually be done and how it impacts their world.
Many students are selecting the secondary school subjects in 5th and 6th class. I would like them more exposed so they will be enthused and passionate to select the STEM subjects. This is of particular importance for females. The government recognises this big shortfall.
I am looking external to form alliances with businesses, secondary schools & colleges to gives us the expertise, knowledge and know how we don't have.'
If you could help us with this or know anyone who could help, please get in touch. We would love to hear from you.
December 2018
Ms. Heneghan's 4th class had a wonderful day on 11th December. They went to Microsoft's 'Dreamspace'.
This opportunity is described on the 'Dreamspace' website as follows:
'Through immersive teaching and learning experiences, DreamSpace at Microsoft Ireland will inspire students and teachers to see how technology can enhance education in exciting new ways, helping them to realise the full potential of what they can achieve'.
To the primary school student 'Dreamspace' promised an opportunity to
'get to grips with what the world could be in 30 years by researching how technology will change our lives'.
The students were coding and also used Paint 3D
The class gave 'Dreamspace' glowing reviews. They really had a great day. We are hoping that other classes may have this opportunity in the New Year. Many thanks to Janet Waters of the Parents' Association Digital and ICT Group for organising this educational treat for the class. Many thanks to Janet and Amanda for accompanying the class on the trip and helping to supervise.
November 2018
Our digital year has gone from strength to strength. In the last week of November, Ten TY students from St. David's secondary school worked in St. Brigid's teaching 4th, 5th and 6th computer skills. Having a large group of secondary school students in to work teaching classes IT skills is a new  development for us. It is going so well that we hope this can happen each year from now on. The TY students have been very good teachers, establishing a great rapport with the primary students and having great patience. They were excellent ambassadors for their school. The younger students in turn are very engaged in learning about computers from young people that they look up to. This is another great initiative from the Parents' Association, more specifically the ICT committee. Thank you to parents Janet, Amanda and Aisling for co-ordinating this for us.
Good luck to our TY students who are out on work experience in St. Brigid's National School and a big thank you to St. Brigid's for looking after them! pic.twitter.com/qqeZOQx5Xx

— St. David's Greyston (@StDavids_Greyst) November 26, 2018
If anyone has any IT EDUCATION SKILLS that could contribute to our IT program and are able to give a few hours of volunteer time during the school day please contact the Digital and ICT group via the school office.
Areas of particular interest to us are coding, multimedia robotics etc. We are always open to new ideas and suggestions. Any help in this area would be greatly appreciated.
A sincere thank you to the Parents' Association's DIGITAL & ICT COMMITTEE who were very busy over the summer configuring the school's laptops, renumbering them and setting up the charging trolley (see picture below). THIS IS OUR NEW MOBILE IT ROOM. We are very fortunate to have parents with such expertise giving so generously of their time. All this work will certainly enhance the children's experience of using technology in the school.
September 2018
Our digital year started well.
The students and staff in St. Brigid's were very happy to be chosen as a Scoilnet's Star Site. Scoilnet is the official education portal of the Department of Education and Skills in Ireland. We would like to thank everyone who contributes to our website especially the Parents' Association Digital and ICT group who advise us and often make suggestions about how to improve our site.
June 2018: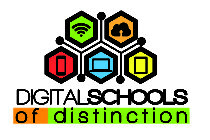 We were awarded the Digital Schools of Distinction Award at the start of May. We know we owe a huge debt of gratitude once again to the PA's Digital and ICT group for all they have done in the school which contributes to it being a Digital School.
Most recently members of the Parents' Association Digital and ICT group completed desktop, word and PowerPoint sessions with 4th Class, Rooms 17 and 19. These classes were super students and really enjoyed it.
The group said; 'We were able to deliver this program to all 3rd and 4th classes this year. We are pleased with our achievement'.
The PA Digital and ICT group want to thank lecturers Aisling Carroll and Barbara Beatty and all the parent support team. Without all their hard work and commitment none of this would have been possible.
A message from the Parents' Association's
Digital and ICT Committee
Digital STRATEGY FOR SCHOOLS 2015 – 2020
Department's Goal
To realise the potential of Digital Technologies to enhance teaching and learning in our education system. The Department recognises that all of the education partners (including parent associations) also have a major role to play in achieving this Vision
To facilitate this last April your PA formed a Digital and ICT sub committee to enable direct collaboration with our school and support where possible (focused approach)
Our Committee Role
In consultation and co-operation with the Principal & ICT co-ordinating teachers, the team is engaged in devising and implementing a programme to equip students with IT skills in order to support their broader educational experience.
THE Future
We aim to create a self-sustaining programme guided by the school and the parental team to support digital education going forward.
If you are a PARENT that can help
PLEASE CONTACT
Janet Watters (c/o school office)
We wish to set up a database with the contact details of parents with any IT skills and expertise that can assist and support our IT collaboration with the school
The Digital & ICT Committee's role is to facilitate and enable a collaborative relationship between the parent body and the school. The goal is to consult, support and assist where possible in the roll-out, and continuous maintenance of, the Department of Education's Digital Strategy for Schools 2015-2020
The Department has identified how it foresees the role of parents in the implementation of that strategy:
Engage with their children's learning through the use of digital technology;
Collaborate with and participate in school activities and programmes using ICT.
While our school has made fantastic progress over recent years, there is more to be done. The PA wants to contribute to and influence this ongoing development in technology-enhanced learning to meet our student's needs. We will endeavour to tap into the vast array of expertise and experience available within our parent body. Our goal is to be prepared to support the IT skill development of our children now and into the future.