March 2020
WORLD BOOK DAY 2020 was a great success in St. Brigid's NS. A huge thanks to The Student Council, Ms. Hughes and mum Hazel Doyle who organised a second-hand book sale on the day. Money raised from this sale will go towards restocking the school and classroom libraries. Míle buíochas to everyone who bought books and supported this event. I hope the children enjoy reading their 'new' books. There were lots of in-school events on the day. The children really enjoyed participating in paired reading sessions between the older and younger classes and the re-enactment of the classic fairy tales was a big hit with everyone. Thank you to Ms. Hughes who co-ordinated the activities on the day. It was a great success.
February 2020
The Parents Association and the Students Council are joining forces to support the "In My Shoes" appeal for 2020.
"In My Shoes" is an appeal for a donation of quality, pre-loved trainers & sports shoes from families in Ireland, which are sent to kids in townships in Cape Town, South Africa. Thanks to the support of Parcel Motel, donations of sports shoes are accepted from anyone across Ireland so we are easily able to get the sports footwear to the appropriate place.
Sometimes, a fairly simple idea can really strike a chord with many. Particularly if it taps into the Irish tradition of giving to those in need. During a business trip to South Africa, Sligoman, Ciaran McHugh, visited the township of Khayelitsha, the largest township or "slum" in Cape Town, in November 2018.  He was moved to reach out to the many enthusiastic yet ill-equipped kids who were desperate to play sport in the township. They had no shoes.
We can help by checking our homes for good condition runners/football boots which our children have outgrown. The good news is we are helping other children and also taking positive action for the environment by recycling.
Please support our appeal. Click on the link for further information https://www.inmyshoes.ie/elsewhere
11th February was SAFER INTERNET DAY.
Garda Maria and Garda JP gave a talk to our 5th and 6th Class pupils today.
The students were really interested in what the visitors had to say and paid great attention.
Members of the PA's Digital & ICT Committee gave a talk on responsible global citizenship to our senior classes during ICT lessons in conjunction with Transition Year students from St David's.
Again the students were very receptive.
Today is an ideal opportunity to talk to your child about internet safety.
Keep lines of communication open with your child. Talk about safety online.
Barnardos say that once a child is online, it is a good time to talk to them.
Parents can find useful information HERE
December 2019
Click on the following link to read the Christmas Newsletter 2019 with all the latest news.
Senan from Senior Infants was on Ireland AM with his Dad talking about CF. Ms. McGuirk, Catherine and St. Brigid were all delighted to hear their names mentioned. Thank you Senan. You can see this seasoned performer interviewee on THIS link. This year our CHRISTMAS JUMPER DAY raised 1210 euro with some monies still to be added. If you want to learn more about CF take a look at this short Youtube video: Oli and Nush – Getting Nosey about CF
ST. VINCENT DE PAUL FESTIVE CHRISTMAS FOOD APPEAL 2019
These items were collected by the Vincent de Paul on Thursday 12th December. Two carloads were filled. Your generosity is much appreciated.
November 2019
Another successful year for thirty two of our pupils and our School Choir at the 64th annual KILCOOLE FEIS which was held November 19th – 24th. The Feis was established by the then local district nurse Mary Kieran in 1955. St. Brigid's have been participating in this Feis for as long as any of us can remember. Generations of children have taken part in it and taking part in it year after year is a highlight of their time in school for many.
This year the children competed in four categories:
Verse – Highly commended
Singing – 1st and joint seconds
Strings – 2nd
School Choir – Highly commended
A big thank you to Ms. Ahern for all the hard work she did in preparing the children for this special event. Well done to the students for preparing so well for the Feis. You did yourselves, your families and the school proud.
You can read more about the Kilcoole Feis HERE
November 2019
Thank you to all those who responded to the CHRISTMAS SHOEBOX APPEAL. 250 boxes were collected by Brian from Greystones Christmas Shoebox Appeal. A huge thank you to all you busy people who got these shoeboxes ready. We appreciate a lot of work goes into this. We think it is so important that the fortunate students in St. Brigid's get an opportunity to give to those who are not as fortunate. Thank you for supporting this worthy cause. Scroll down to see what 250 shoeboxes look like!
Thank you also to all those who supported the Halloween Bake Sale in aid of The Bray Lakers. As you may be aware, the Bray Lakers lost four buses and a lot of school equipment in a fire last October. They are eager to replace all the equipment and buses that they lost in this fire. Your donation will go a long way towards helping them.
Our new Junior Infants are to be congratulated for settling into St. Brigid's so well.
'Independence Day' Thursday 12th September 2019 was a big day for them.
From now on Junior Infants will remain in school until 1.40 pm.
To mark this milestone Mrs.Costello gave the boys and girls a special pencil. Thanks to Carol and Tara in the office for organizing these.
Over the summer the school got two ovens. The children now can learn to BAKE and COOK in SCHOOL. Ms. Cuffe's 2nd class made fairy cakes. This work was integrated with work in English. The children wrote about what they would do in procedural writing. The smell was delicious. The children were excited. We didn't see finished fairy cakes as they didn't last long.
You can see a slide show of photos from this work HERE
Thank you to all who supported the fundraising SPONSORED WALK on Friday 28th September, 2018. This is a fundraiser for the school. We were lucky in the weather and the children enjoyed the day. Thank you to the many parents who helped supervise and those who organised the event. Thank you too, to Super Valu, Greystones who sponsored water for the walkers.
Infants took a short route. First and Second took another. Classes from Third class up walked to Greystones United Football Club.
Thursday 13th September, 2018 was INDEPENDENCE DAY for our new Junior Infants. We are all very proud of the girls and boys. They were so grown up and in the morning, they walked into their classrooms all by themselves. It was also their first full school day.
The day ended with some memorable surprises organised by our principal, Mrs. Costello. Each child went home with a balloon. Thank you to Tara, Carol and Helena who worked hard to make sure sixty balloons were ready for distribution.
The infants were amazed to find a Dale Farm ice cream van in the school yard. Thank you to Ms. Carwood and her sister Amanda, a past pupil of the school for organising this. The Infants enjoyed their ice creams.
However the fun did not stop there. All students from Senior Infants to Sixth came out to the yard where they too were treated to an ice cream. The photos in this slide show are of students from Senior Infants to Sixth enjoying their ice creams. Many, many thanks to all those involved in this great day. Thank you to Ms. Curley for taking the photos and recording this happy day.

Thosaigh 'Coicís na Gaeilge' ar scoil inniu. Bhí ceolchoirm againn sa halla ar maidin chun Coicís na Gaeilge a cheiliúradh. Bhí John Spillane ag canadh. B'iontach an ócáid í agus bhain chuile duine an-taitneamh as na hamhráin. Go raibh maith agaibh John, Cormac agus Mr.Dodd.

Tá súil againn go ndéanfaidh gach páiste sár-iarracht Gaeilge a labhairt u rith Coicís na Gaeilge.
'Is fearr Gaeilge bhriste ná Béarla cliste'.
Click here to see a short slideshow of photos from our AWARDS CEREMONY today. The children were presented with sports, drama and attendance awards. 32 children from Junior Infants to 6th class were presented with a certificate for full attendance. Mrs. Costello was delighted with this number and very proud of the children. There were some families where all of the children attending St. Brigid's had full attendance. That is such a great achievement. Edie and Hannah from 6th class received a drama award to recognise their commitment to the Arts since they started in Junior Infants. Áine and Alex got the Overall Sports Award for their contribution to sport since they began in St. Brigid's. Well done to all the boys and girls who received an award.
Click HERE to download the EASTER NEWSLETTER.
To celebrate CATHOLIC SCHOOLS WEEK (29th January – 2nd February) Wednesday 31st January 2018 was designated GRANDPARENTS DAY in St. Brigid's NS. Grandparents in our Community were invited to our school on that day to help us to celebrate. We had a Prayer Service on the day and were delighted that grandparents took part and also visited their grandchild's class for a short while. They chatted to the boys and girls about how life has changed since they were in school and told us about their Communion/Confirmation Day.
Click HERE to download the CHRISTMAS NEWSLETTER 2017.
St. Vincent de Paul Food Collection
Thank you for your generosity.
Christmas Shoeboxes
Many thanks to all who brought in
CHRISTMAS SHOEBOXES.
You can see a slideshow of the shoeboxes HERE.
In total 327 boxes have been collected by Team Hope for distribution to children in Africa.
Well done everyone.
A Visit from the Garda Mounted Unit
The GARDA MOUNTED UNIT came to visit St. Brigid's. There was great excitement. Having two horses in the school yard was a first for us. You can see a slide show of the visit below:
Click on the following link to read the Newsletter October 2017 This newsletter was also emailed home.
Congratulations to the following children who have been invited to attend a prize giving in KBC Bank during mid term. They entered a colouring competition run by KBC last year: Last year the children in 1st and 2nd Class entered a colouring competition organized by KBC. Very well done and congratulations.
Christiaan
Kai
Holly
Finn
Doireann
Nathan C
and Lucy Rose
Top Tips for Social Media/Chat Apps and Onlining Gaming from Cyber Safe Ireland
Earlier this term students from 4th class to 6th and their parents had the opportunity to learn about ONLINE SAFETY from CYBER SAFE IRELAND. The following is the 'Take Home Info for Parents' that Cyber Safe Ireland provided. We thought this information had great value and was well worth sharing with you.
1. Talk to your child as often as possible about what they see and do online. Check out Cyber Safe Ireland for ideas for conversation starters.
2. Be aware of age restrictions on social media/messaging apps and PEGI ratings on games.
3. Do your research on safety for each app or game. Install and use them yourself if you can, or check them out on YouTube.
4. Check out parental control options, especially for younger children, but do not place too much reliance on technical solutions.
5. Discuss your concerns, agree rules (eg for sharing info and accepting friend requests) and check out the privacy/safety settings and reporting mechanism together.
6. Keep an eye on their friends lists, language and tone they or others use, who they're talking/gaming with, and what they are sharing online. Reiterate importance of controlling their information.
7. Discuss how words and actions can affect others. Encourage them to look after their friends and let them know that you are always there for them if they need you.
8. Agree time limits and technology free time. Always try to model the same behaviour yourself.
Useful Links for Parents included
Cyber Safe Ireland
Webwise for Parents and
from Webwise some excellent information on Parental Controls
School Year 2016-17
MUSIC WEEK was held in the school 17th-21st June. It was a wonderful week. You can read about it HERE Mobile Music Machine visited fourth and sixth class. Renowned violinist Alan Smale and friends played for first to third class. Eimear Saunders from MUSIC GENERATION prepared all classes to sing rounds in 'The Big Sing'. She also worked with 5th and 6th where they sing pop songs and play instruments. Joan Dempsey (also from Music Generation) worked with 2nd and 3rd class as they play recorder and percussion. We were also very lucky to have wonderful students from Artane School of Music visit us on Friday. Our students were fascinated to see children their own age playing instruments like the trumpet and clarinet. Thanks to Music Generation for all their support in this endeavour and our wonderful tutors, who have taught us so much and made learning so much fun. It looks like Music Week will be another highlight in a great school year.
Well done to Ms. Woodcock's 3rd Class for their EXCELLENT PERFORMANCE of the the thought provoking 'Pirates and Mermaids'. It was a play with an important message. We also enjoyed the entertaining, comical and musical 'Murder at Magpie Manor' from Ms. Heneghan's 6th. Then there was the performances of 'Mary Poppin's' from both 4th classes; Ms. Hughes' and Ms. Donnelly's which was supercalifragilisticexpialidocious; 'practically perfect in every way'!

You can see a slideshow of photos from rehearsals for Mary Poppins HERE

Last but not least congratulations to Mr. Dodd's 6th Class on their superb performance of King Lear. You can see a slideshow of their performance HERE
Féach ANSEO
Bhí Seachtain na Gaeilge ar fheabhas i mbliana. Coicís iontach speisíalta a bhí againn! Bhí ceolchoirm iontach againn sa chlós ar an 16ú lá de Mhárta. Bhí slua mór i láthair don ócáid. Bhí ceol, damhsa agus amhránaíocht ann. Bhaineamar an-sult as! Go raibh maith agat Mr.Dodd
Goodbye and thank you to Mrs. Tighe
Our wonderful PE teacher Mrs. Tighe retired at the end of November. We are very sorry to say goodbye to her because she is a great teacher. She taught us a lot. She had lots of ideas and she made learning fun. She was very kind and had great patience. We wish her all the very best in her retirement.
Then late last week, a very special delivery arrived from Mrs. Tighe. She sent us a consignment of dodge balls.
We used them during Golden Time on Friday and had great fun.
Thank you Mrs. Tighe …. for everything.
Great excitement caused by our Halloween visitor.
Many thanks to the gardening committee for this arresting addition to the school yard.
A Reason to Celebrate
Click on THIS LINK to see the celebration students and staff had for Ms.O'Neill who is getting married. We look forward to welcoming back Mrs.O'Donnell after The Big Day and wish the happy couple every blessing for a long and happy marriage.
Celebrating Success
Congratulations to Edie Trischler 4th Class and Jack Finnegan from 3rd for winning Special Merit Awards in the Texaco Art Competition. You can see their works of art on the Students' Work page for 3rd and 4th Class on the menu on the left.
Well done Write A Book winners. Sofia McDarby 'The Friendly Monster', Raife Fitzmaurice 'The Pirate Adventure', Jack Fitsmaurice 'Bia', Rufus Kinsella 'Arthur's Diabolical Adventure', Rang Ms Donnell's 'Comortais na Coinini & Bella Bó & an Liathróid', Rang Ms Walshe's 'Aimsir Chaite Beo', Senan Rogan's 'Mo Cheol Thú', Alice Beatty  'Water Girl'.
A Visit from an Author
LOOK who visited 2nd and 4th class recently! A real live author! Jackie Burke. Jackie writes the magical Grindlewood series. She spoke to the children about lots of things, like how she comes up with her characters and the importance of self editing. Teachers tells students about the importance of editing and check, but if a real published author says it, it must be true. In turn the children asked Jackie some well thought out and sensible questions. The students found Jackie very inspiring and the occasion was voted a BIG success. Thank you Jackie for visiting our school.


If you want to read more about Jackie Burke, her website is here: Jackie Burke: The Secrets of Grindlewood
Here is what the boys and girls from Ms. Hughes' 4th Class had to say about the Jackie Burke's visit:
• She was inspiring in a way that filled you with confidence, like anything was achievable. It made me feel like anyone could be an author at any age. Finn Burke
• She really encouraged me to start writing and gave us loads of tips on how to do that! Ella Fitzsimons
• I love the way she said to look at the things around you and write about that. Because, you can take an ordinary, boring thing and make it something amazing. Ciara Forde
• I love the way she used the name Grindlewood for the place and Grindle for the children's second name. Saoirse Eddy.
• She said "Look around you. Whatever you see, just write it!" Mark Foley
• I learnt that one idea leads to lots more. Alex Baines
• Jackie inspired me by telling us that ANYONE can become an author – that makes me want to write stories and poems at home. Xevian Dagbay
• From now on, I will always have a notebook full of ideas. Aoibhe Hickey
• She told us that you don't have to think of the title straight away. Laila O'Gorman
• She said "Look around and make the world be whichever way you want and turn it into your story". Jessica Gonsalves
• She gave us great tips on how to write exciting stories. Kim Gallagher
• I learnt that you can be IN your own book without being a character. Eliana Gallagher
• Her books were interesting. Cormac O'Flanagan
• Jackie was very inspiring. She picked some of her characters from the real world. Martha Doyle.
• I really enjoyed when she told us she drove to Belfast to meet the lady with the dogs and then she used Timber the dog in her story. Sophie Keddy.
• She was very enthusiastic when she was reading. Emily Mooney
• She taught me that nothing is impossible. Laoise Fenelon
• She was an amazing influence. To be an author you have to read so I decided to think…"read to succeed!" Sarah Balfe
• She inspired me to read more. Thanks for inviting her in – I really enjoyed it. Shannon Kennedy.
• I really enjoyed the visit but the thing I really enjoyed was that she told us to really THINK. Lennon Carey
• The one thing she said that made my day was if you take a moment to look at the world you will be inspired. Kaylah Kennedy
• Today I learnt many new things from a talented author. She inspired me to read more books. Conor Edge
• The thing about Timber and Teddy was really good. Loman Cusack
• She spoke about Grindlewood as if she had lived there all her life. She also read extracts from her book that were amazing cliff hangers! Hannah Boden
Here are some photos of Proclamation Day – 15th March, 2016
CELEBRATING PAST PUPIL SUCCESS
Occasionally on this website we write about past pupils of St. Brigid's, Greystones. There is a great variety in the successes of our past pupils:
Have you heard about  Emily's Green Fingers and her contribution to the Greystones community?
You can read about Harry who is having great success musically.  'Mighty Oaks from Little Acorns grow' .
Caroline Dwyer Hickey became a much loved teacher, remembered by her family with the gift of The Greystones Bear to this seaside town.
From an original story that Emer Nolan composed for 'Write A Book', her Mum, Sineaid Doyle has written a book, called 'Mary Wolftide'.
Now to this 'Hall of Fame' we add poet Vincent Forsyth. Vinnie Forsyth was in Junior Infants with us in the early 2000s. He moved with his family to Wexford in 2006. He is in 5th Year now in Enniscorthy and is writing poetry. Having left our school ten years ago, we can take no credit for Vincent's success but we really wanted to know what made him a poet!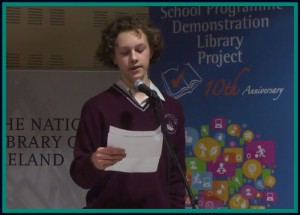 We wrote to Vincent to tell him that we thought his poetry was great. We had some questions for him and this is what he told us:
'I started writing poetry because I realized there is so much that a person can express but they don't and I always liked English and I was told I had a good way with words, and that it could bring me far. I had done small bits when I first moved from Greystones but that was just before secondary, and I didn't realize how easy it would be to get out there and start my own page to post my writing. 
In secondary, I began writing as there were quite a few clubs that I wanted to join, such as the creative writing group and that was sort of the kick start of it all. With the creative writing group I've met a few Irish poets such as Colm Keegan, John W. Sexton and Garry Mc Carthy. They were really interesting to meet and it was inspiring their love for words. It was also comforting that they were as crazy as me! 
I love reading, but as I am in 5th year, I'm trying to study more, so I don't get to indulge in my books like I would want to. My advice for younger people is to just get out and do it. Find something you are passionate about and write. Even if you need a helping help to get to started, don't be afraid to ask.
You ask me about ambitions for the future, that's a tough question. I'd like to do so much, but will I ever have time to do it all? I would love to maybe going into lyric writing as of late I have been doing so much of it, and maybe some sort of performance art. Favorite poet? There is so many! I really like the poet I'm studying now, and that is Sylvia Plath, and maybe Elizabeth Bishop. 
Oh and as an added note about the creative writing, I received an award for speaking in the Nation Library Dublin for the Writing Reading and Performance Poetry Initiative abbreviated WRaPPAround, and within school I received Best Junior Writer award also. I could possibly go on for years about writing. It's such a great thing to know and once you have your way with words, it's hard to lose it.
The last thing I shall say is that I have this super awesome new book of writing which will be released soon! Exciting stuff.'
Vinnie has self published eight books of poetry online. One of his approaches to to ask people to submit a word or a sentence and he writes a poem based on that.
Many thanks to Vincent for answering our questions and his advice to us about writing. We wish him every success and will follow his career with interest.
OUR NEWS ARCHIVE
Ms.Kenny's talented class painted great pictures of Ms.Breen and the Prince. Ms. Breen is getting married over Easter.