Music Generation continues this year in First, Second & Third classes.  It is going very well and the children really enjoy it.
Room 20 had a fantastic musical experience recently when the 'Mobile Music Machine' came to visit.  We were entertained for an hour by four classical musicians.  They talked to the children about their instruments and the music, and played some familiar favourites that the children recognised and thoroughly enjoyed.
The children also got to perform with the musicians and even conduct.  They were absolutely enthralled!
Thanks to Music Generation who funded the visit of 'The Music Machine' for St. Brigid's.
Well done to the children from 4th Class, Room 16 and their teacher Ms. Hughes on their performance of 'The Wizard of Oz.'
The Wizard of Oz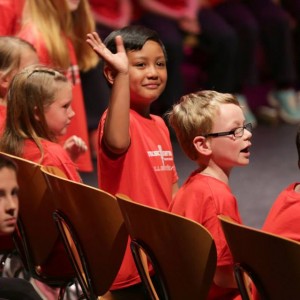 Students from St. Brigid's sang in the Mermaid Theatre, Bray on June 8th, 2014 as part of a choir comprised of local schools. It was the first public perfomance of composer Elaine Agnew's piece for percussion and voice 'Mostly Me'. Tutors from Music Generation Wicklow accompanied these students on stage. 'Mostly Me' was commissioned by Wicklow County Council under the Per Cent for Art Scheme on behalf of Music Generation Wicklow. You can see more great photos on Music Generation Wicklow's Facebook page.
Kilcoole Feis 
Annually Ms. Ahern prepares children for the Kilcoole Feis. St. Brigid's has a long tradition of participation  in this local event.
Kilcoole Feis 2003
We were very happy to hear about the musical success of a past pupil of the school. Harry O'Connor left St.Brigid's after a year in Ms. Ahern's Junior Infants. We have happy memories of Harry performing 'The Friendly Cow' in the Kilcoole Feis. As we recall he won. Here he is sitting at the front on the left.
Now seventeen, Harry is now an accomplished composer, musician and conductor.
We wish Harry all the best in the future and will follow his progress with interest and with pride.